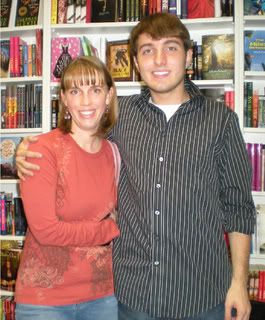 Haiku Amy Meets Kaleb Nation

Be Warned: this post could be a little lengthy, but nonetheless interesting.

I was exited to learn about a month ago that Kaleb Nation (aka
The Twilight Guy
) was going to be on a book tour for his book,
Bran Hambric: The Farfield Curse
. One of his stops was Salt Lake City, which is nearby where I live. I really wanted to go, even though I hate going to these things alone, and I'm pretty sure my friends and family would not have been interested. So I braved going alone with the hope of meeting another book blogger, Natasha of
Maw Books
, who had interest in going. Sadly, Natasha couldn't make it, but I did.
October 12, 2009
I had a babysitter, and a stomach full of nerves. I was on my way, but not before having to settle down my child with dinner and a movie. That made my getaway time a little delayed. Being a stay at home mom, I am not used to the usual commute, and I totally forgot about all the insane road construction plaguing most of my intended route. I didn't factor in extra driving time, so I ended up being a little late. Shoot!
I finally found
The King's English Bookstore
where the event was to take place. This was my first visit there. It is literally nestled in the middle of a residential area in Sugarhouse, which coincidentally made me clausterphobic. Seriously, the streets in this part of the city are very narrow. I found a parking spot and proceeded to hike down the hill and around the block.
Now picture this: I just bought the cutest clogs the other day at Kohl's. They make me a little taller, they also make it a little more difficult to walk, and they tend to click-clack rather loudly. What didn't make my late entrance any easier is that the
King's English
has hardwood floors. Yikes! So not only am I late, but I'm making my grand entrance very noisily. Distraction #2: the only available seats are on the other side of the room, so in order to get there I have to cross in front of everyone and their cameras. Not that any of those people read this blog, but I am really sorry if I messed up anyone's video!
What I missed: Kaleb talking about his experience with writing his book. However, I did make it just in time to hear him read the prologue of his book. It was good, and he is a good reader. I just wish the backdrop wouldn't have been shelves full of books, because I got a little distracted with looking at book covers and titles. I guess I must be more of a visual learner, because honestly I was having a hard time. I found the same thing to be true when I listened to
The Three Musketeers
as opposed to reading it. I caught a lot more details while reading. I think it is interesting that I found that out about myself, but I digress.
Next Kaleb answered questions about being an author and the process of writing. Some questions addressed how he found his agent. He suggested an online site, which I believe he used
Agent Query
(Kaleb, if you are reading this feel free to correct me). He also talked about how he overcomes writer's block. He said he watches author signings on YouTube to get inspiration from other writers. How cool is that?
He was asked what his favorite books are and he answered
Artemis Fowl
,
The Twilight Saga
,
Looking for Alaska
by John Green, and I think there was another book he mentioned that I can't remember. Rats! I hate when I am forgetful like that. Surprisingly he has never read the Harry Potter series. He said not to hate him, he has just been busy, and that he'll find time to read them eventually.
He was asked a few questions about the characters of the books. I have a hard time remembering those answers, because I have not yet read the book. So the actual character names are still new to me. Kaleb relates himself mostly with the main character, Bran, because he was 14 when he started writing the book, and Bran is 14. He was also asked if any characters were based on people he knows. He answered that some of the villains are based on people he has known, but he wouldn't name names of course. He said it is his way at poking fun at them. That gave the room a good chuckle.
A question about the book series: does he know what is going to happen in each of the books in the series (I think there will be 6, correct me if I'm wrong)? He said he has a huge arc of events of what things will happen in each book, but not the details. Another question regarding the writing of the books was when the 2nd book would be done. He is still writing it and his publisher wants it by early 2010, which will most likely put the book release by the following year.
He also talked about the use of magic spells in his book. I can't remember the finer details of that answer, but having a magic wand definitely makes the spells stronger. His characters can cast a spell without a wand though, and also they have magic words that they use. I think the question was regarding if the spells could be cast internally (like the use of nonverbal spells in Harry Potter), but I can't remember if he said his characters could do that or not. Man, I guess I really should have taken notes. I have a poor memory.
Honestly, that is all I can remember about the question and answer segment. I should have recorded it, but I was too flustered from being late to pull out my camera.
Last, but not least, was the actual book signing. I am always nervous about what to say to an author (or any stranger for that matter). I am typically a shy person, so I tend to stay away from new social situtions. Thus the reason for my nervousness at being there without a buddy. Anyway, Kaleb was really nice. He signed a copy of his book for me, and graciously agreed to pose for a picture. He even put his arm around me; what a cutie! I think I could hear a little bit of a nervous chuckle coming from him, which made me laugh to myself. He must have felt awkward too, putting his arm around complete strangers for pictures. Afterward I thanked him again and expressed that I was glad to have met him. That was that. The only thing left to do was purchase my book, and be on my merry way. Phew! I am glad to have made it through that experience.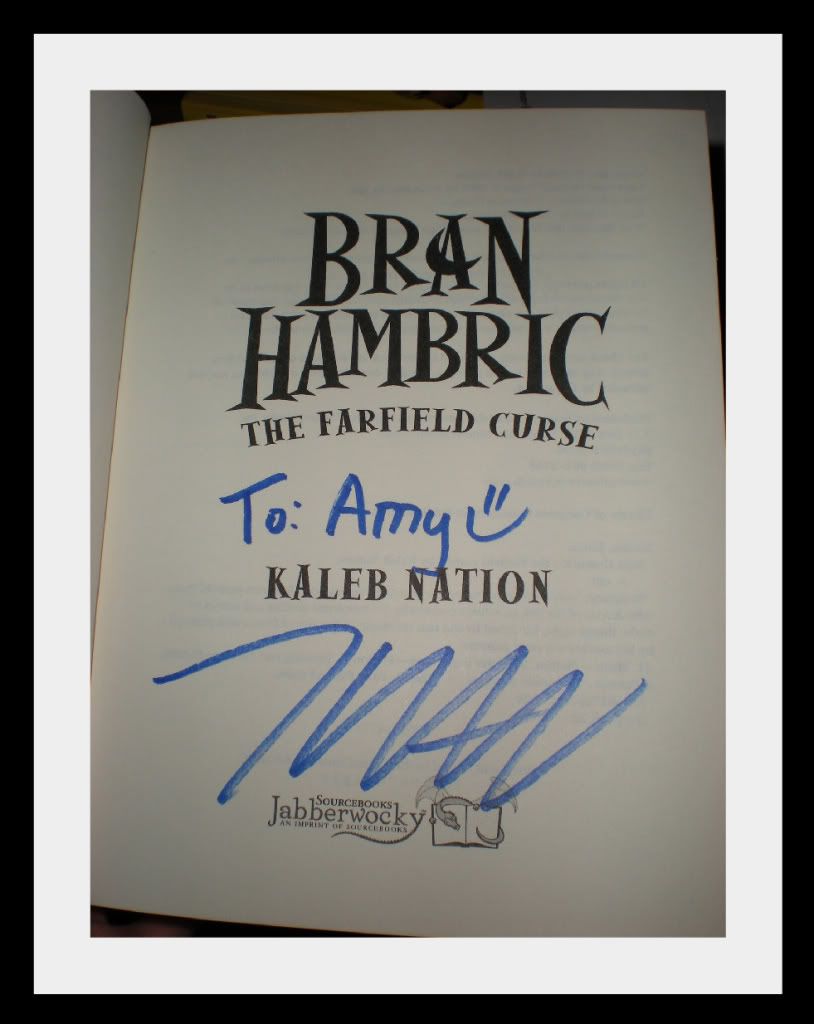 I really did enjoy meeting Kaleb. I was introduced to him online through my love of the Twilight Saga. I've been following Kaleb's posts and videos on his
Twilight Guy
site. He is really funny, and crazy in a humorous way. His vlogs make me laugh out loud. He really is a talented guy, and I am really looking forward to reading his book. As soon as I'm finished I'll be sure to let you all know what I think. One last thing I want to say is thanks to Kaleb for visiting Salt Lake City. It was great meeting you, despite all my embarrassment and awkwardness.
Questions for my readers: "Are you shy, like me, or do you have a more outgoing personality?"
Or: "Have you been to any author signings? If so, who did you meet?"